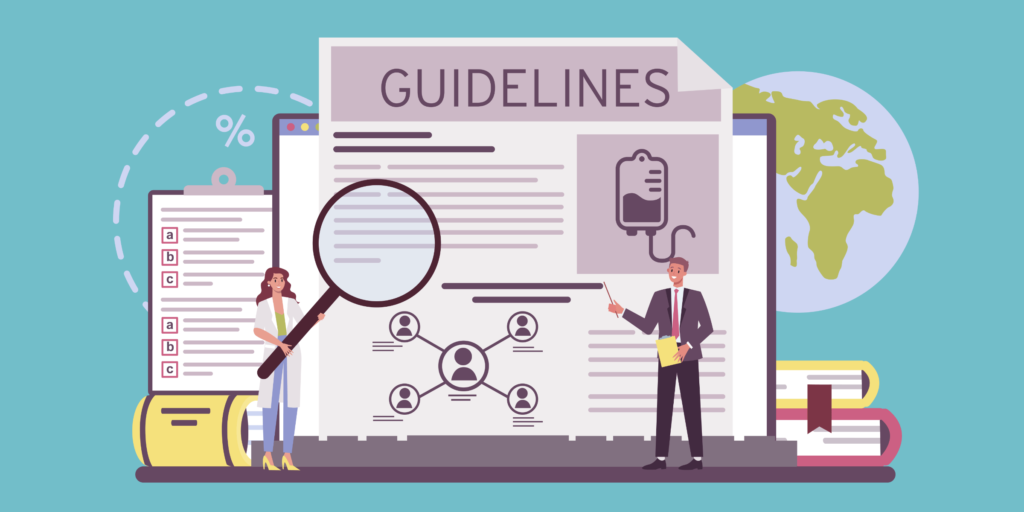 What good are guidelines and recommendations?
Without guidelines and recommendations, we would live in chaos! We would be back in the Wild West making wild guesses and assumptions. So we have guidelines and recommendations. Not hard and fast like laws, guidelines and recommendations do offer some leeway to use one's clinical judgment. But because guidelines and recommendations are based on the strongest available scientific evidence, they shouldn't be ignored. But what good are they really? Let's look at parenteral nutrition guidelines and recommendations for an example. The American Society for Parenteral and Enteral Nutrition (ASPEN) is a great resource for guidelines and recommendations.
What do the guidelines say about nutrition support therapy in the adult critically ill patient? The ASPEN-SCCM clinical guidelines for the provision and assessment of nutrition support therapy in the adult critically ill patient offer basic recommendations that are supported by review and analysis of the current literature, other national and international guidelines, and a blend of expert opinion and clinical practicality.

When is parenteral nutrition appropriate? Consensus recommendations by Worthington P, et al, aim to delineate appropriate parenteral nutrition use and promote clinical benefits while minimizing the risks associated with the therapy. Read the full document.

What is appropriate dosing for parenteral nutrition? Persistent shortages of parenteral nutrition components have led to a tendency of practitioners to provide less than adequate dosing, which can lead to nutrient deficiencies that impair growth and healing. This document provides the requirements and recommendations for dosing of nutrients for a complete parenteral nutrition prescription.

What about alternative lipid injectable emulsions (ILEs)? There are expert recommendations regarding the use of alternative ILEs in surgical and critical care patients. The 2018 Lipids in Parenteral Nutrition summit involved a panel of experts in clinical nutrition, lipid metabolism, and pharmacology to develop consensus statements regarding the use of alternative ILEs.

How do I achieve photoprotection for parenteral nutrition? A position paper by Robinson DT, et al, reviews the scientific literature on the formation of quantifiable peroxides and other degradation products when parenteral nutrition admixtures and lipid injectable emulsions are exposed to light and reports adverse clinical outcomes in premature infants exposed to parenteral nutrition.
Whether you have a question on dosing or storage or delivery, there's probably a clinical recommendation for it. The American Society for Parenteral and Enteral Nutrition (ASPEN) has guidelines and consensus recommendations that are based on literature and practices to help guide the use of parenteral nutrition to minimize errors associated with parenteral nutrition therapy. But that's just one resource. There are also the North American Society for Pediatric Gastroenterology, Hepatology and Nutrition (NASPGHAN), the European Society for Paediatric Gastroenterology, Hepatology and Nutrition (ESPGHAN), the European Society for Clinical Nutrition and Metabolism (ESPEN), and the Society of Critical Care Medicine (SCCM).
Whether a patient is in the hospital, a long-term care facility, or is being discharged to home, these guidelines and recommendations exist to help guide the safe and effective use of parenteral nutrition. As a pioneer of clinical nutrition, we believe it's of the utmost importance to stay on top of these guidelines. That's why we post any updates and links to these professional societies on our Resources page.