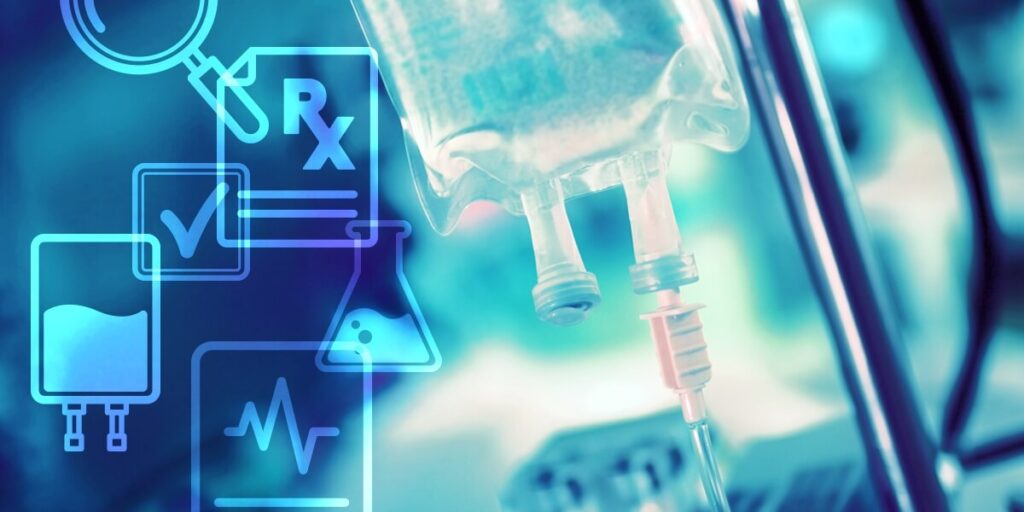 Steps to safe parenteral nutrition preparation and administration
Parenteral nutrition (PN). It's a valuable source of nutrition for critically and chronically ill patients who are unable to receive the nutrients they need via the oral or enteral route. It's also a complex process with room for errors. It certainly takes a "village"—an interdisciplinary approach—involving multiple healthcare professionals and several steps to ensure its safe delivery and administration.1 And it all starts with assessing your patient's need for PN.
1. Assessment1:
During this first step in the PN use process, the dietitian and/or nutrition support team will:

Review patient data
Conduct a nutrition assessment including estimation of nutrient requirements
Determine nutrition intervention and nutrition prescription based on therapy goals and clinical condition
Communicate with the prescriber

2. Prescription1:
When determining an appropriate prescription for PN, a clinician must decide2:

Appropriate use
What's my patient's indication for the use of PN?
IV access
How long will my patient be on PN? Will they need a peripheral line or a central line?
PN ingredients
How much protein, lipids, and dextrose will my patient need? What about vitamins, trace elements, electrolytes, and total volume?
PN instructions
What's the infusion rate and the start and stop times?

A safety tool in prescribing PN is to use a standardized PN order format and sequence of PN components

3. Review, verification, and transcription1,3:
Once the PN is prescribed, the pharmacist will review and verify that the received order is appropriate before any preparation or compounding begins. This process includes two steps:

A clinical review to verify that the indication and the dosing of each nutrient is appropriate for the patient
A pharmaceutical review to verify the compatibility of the PN components and the stability of the final preparation

After these steps are completed, the pharmacist will then transcribe the PN order from handwritten (although not recommended), printed, or CPOE system to the automated compounding device (ACD). An additional independent double check is performed to ensure accuracy of the PN prescription.

4. Preparation, compounding, and dispensing1,3:
Once the prescription is deemed appropriate, the pharmacist and pharmacy technician will prepare and compound the PN following sterile compounding techniques. Before the final preparation goes out the door to be dispensed, the pharmacist must assure that it is properly labeled, delivered, and stored.

5. Administration1:
Finally, the PN admixture has made it from the pharmacy to the nurse or caregiver who is responsible for its safe administration. They should be knowledgeable and acquire the skills needed to verify the correct PN order, avoid administration errors, and maintain infection control.

6. Monitoring1:
The final step in the PN use process is monitoring. An experienced nutrition care team will closely monitor their patient to prevent and detect any complications that may occur throughout their patient's journey with PN.
For more information on the safe use of the Fresenius Kabi Nutrition portfolio, please reach out to a PN Specialist or click here to access an abstract by pharmacist Dr. Joseph I. Boullata reviewing the PN use process.
Click here for more expert content by Dr. Boullata and Dr. Jay Mirtallo on PN safety
Click here to view ASPEN's PN Resources.