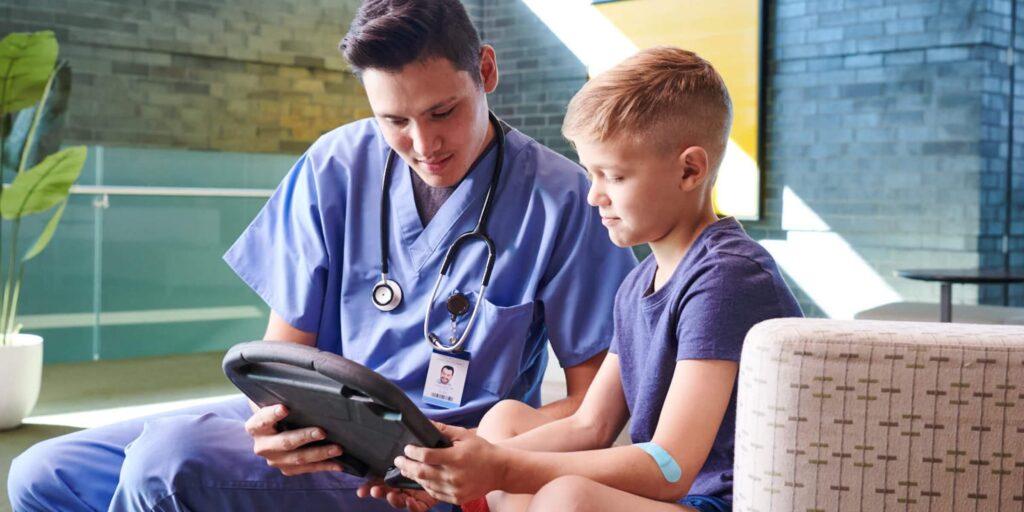 Dedicated to nourishing patients at every age and stage of life
Patients of all ages, from the oldest to the youngest, who are unable to meet their nutritional needs orally or enterally may require parenteral nutrition (PN). Those patients' daily nutritional requirements are supplied intravenously with a PN solution, which is made up of water, energy (or calories), amino acids, essential fatty acids, vitamins, and minerals. But PN solutions aren't all the same. As pioneers in clinical nutrition, we're constantly striving to develop innovative PN products to help nourish critically and chronically ill patients at every age and stage of life—specifically, we develop alternative-oil lipid injectable emulsions (ILEs).
But you might ask, "What difference do fatty acids in PN make?" Well, it comes down to the clinical benefits and/or drawbacks of ILEs. The first ILEs developed were 100% soybean oil. However, soybean oil is made up of 50% linoleic acid, an omega-6 fatty acid with pro-inflammatory properties.1 On the other hand, fish oil, which is one of the newer fatty acids to be used in PN, mostly consists of omega-3 fatty acids, which may have less pro-inflammatory effects.1 That's why formulating ILEs with alternative lipid sources, like fish oil, has been a focus of ours.
Some of the "firsts" in the parenteral nutrition space to incorporate fish oil include Omegaven®, which is a 100% fish-oil ILE for pediatric patients with parenteral nutrition-associated cholestasis. Another is SMOFlipid®, which is the first and only ILE to contain a unique blend of four oils. But what's exciting is that SMOFlipid is now indicated for both adults and pediatric patients, including term and preterm neonates, as a source of calories and essential fatty acids for parenteral nutrition.2 Now, patients of all ages have access to this unique blend of lipids:
Soybean oil 30% (omega-6)
Provides essential fatty acids

Medium-chain triglycerides 30%
A source of rapidly available energy3

Olive oil 25% (omega-9)
Supplies monounsaturated fatty acids and contains small amounts of linoleic acid and alpha-linolenic acid

Fish oil 15% (omega-3)
A source of omega-3 fatty acids, including EPA and DHA
With the expansion of SMOFlipid's indication to include patients of all ages, now healthcare providers and parents of infants and children on parenteral nutrition at home have another option to help nourish even the youngest patients. Discover the SMOF difference at: www.FreseniusKabiNutrition.com/deliver
INDICATIONS AND USAGE
SMOFlipid is indicated in adult and pediatric patients, including term and preterm neonates, as a source of calories and essential fatty acids for parenteral nutrition (PN) when oral or enteral nutrition is not possible, insufficient, or contraindicated.
IMPORTANT SAFETY INFORMATION
For intravenous infusion only into a central or peripheral vein. Use a non-vented non-DEHP 1.2 micron in-line filter set during administration. Recommended dosage depends on age, energy expenditure, clinical status, body weight, tolerance, ability to metabolize and eliminate lipids, and consideration of additional energy given to the patient. The recommended dose for adults and pediatrics is shown in Table 1. For information on age-appropriate infusion rate, see the full prescribing information. SMOFlipid Pharmacy Bulk Package is only indicated for use in pharmacy admixture programs for the preparation of three-in-one or total nutrition admixtures. Protect the admixed PN solution from light.
Table 1: Recommended Adult and Pediatric Dosage
Age
Nutritional Requirements
Initial Recommended Dosage
Maximum Dosage
Birth to 2 years of age (including preterm and term neonates)
0.5 to 1 g/kg/day
3 g/kg/day
Pediatric patients 2 to <12 years of age
1 to 2 g/kg/day
3 g/kg/day
Pediatric patients 12 to 17 years of age
1 g/kg/day
2.5 g/kg/day
Adults
1 to 2 g/kg/day
2.5 g/kg/day
SMOFlipid is contraindicated in patients with known hypersensitivity to fish, egg, soybean, peanut, or any of the active or inactive ingredients, and severe disorders of lipid metabolism characterized by hypertriglyceridemia (serum triglycerides >1,000 mg/dL).
Clinical Decompensation with Rapid Infusion of Intravenous Lipid Emulsion in Neonates and Infants: Acute respiratory distress, metabolic acidosis, and death after rapid infusion of intravenous lipid emulsions have been reported.
Parenteral Nutrition-Associated Liver Disease: Increased risk in patients who received parenteral nutrition for greater than 2 weeks, especially preterm neonates. Monitor liver tests; if abnormalities occur consider discontinuation or dosage reduction.
Hypersensitivity Reactions: Monitor for signs or symptoms. Discontinue infusion if reactions occur.
Risk of Infections, Fat Overload Syndrome, Refeeding Syndrome, Hypertriglyceridemia, and Essential Fatty Acid Deficiency: Monitor for signs and symptoms; monitor laboratory parameters.
Aluminum Toxicity: Increased risk in patients with renal impairment, including preterm neonates.
Most common adverse drug reactions (≥5%) from clinical trials in adults were nausea, vomiting, and hyperglycemia. Most common adverse drug reactions (≥5%) from clinical trials in pediatric patients were anemia, vomiting, increased gamma-glutamyltransferase, and nosocomial infection.
To report SUSPECTED ADVERSE REACTIONS, contact Fresenius Kabi USA, LLC at 1-800-551-7176, option 5, or FDA at 1-800-FDA-1088 or www.fda.gov/medwatch.
This Important Safety Information does not include all the information needed to use SMOFlipid safely and effectively. Please see full prescribing information, for intravenous use at www.FreseniusKabiNutrition.com/SMOFlipidPI.