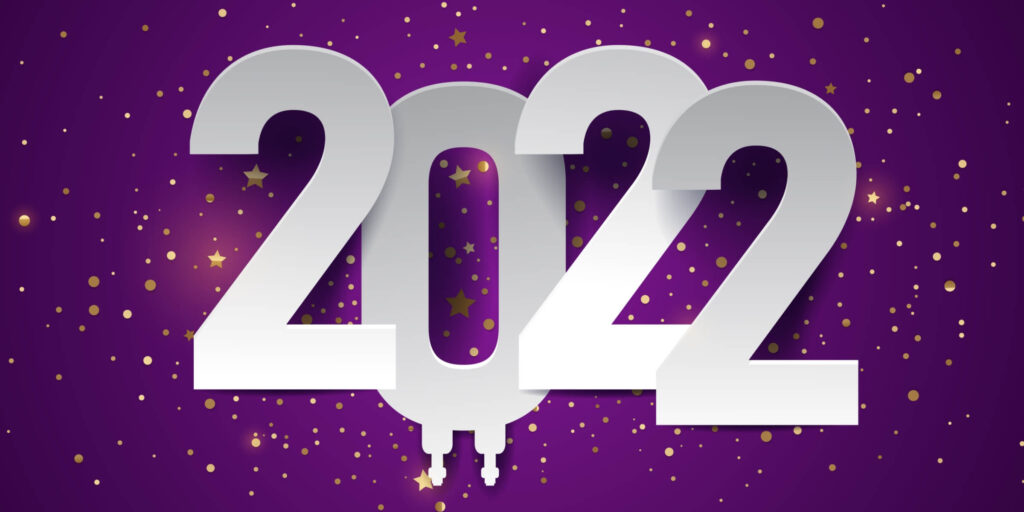 Cheers to a fulfilling year
With 2022 coming to a close, we thought we'd look back at a PN year in review. It was a year of guidance updates, product approvals, supply and demand news, reimbursement changes, and so much more…
A Taste of 2022 for Fresenius Kabi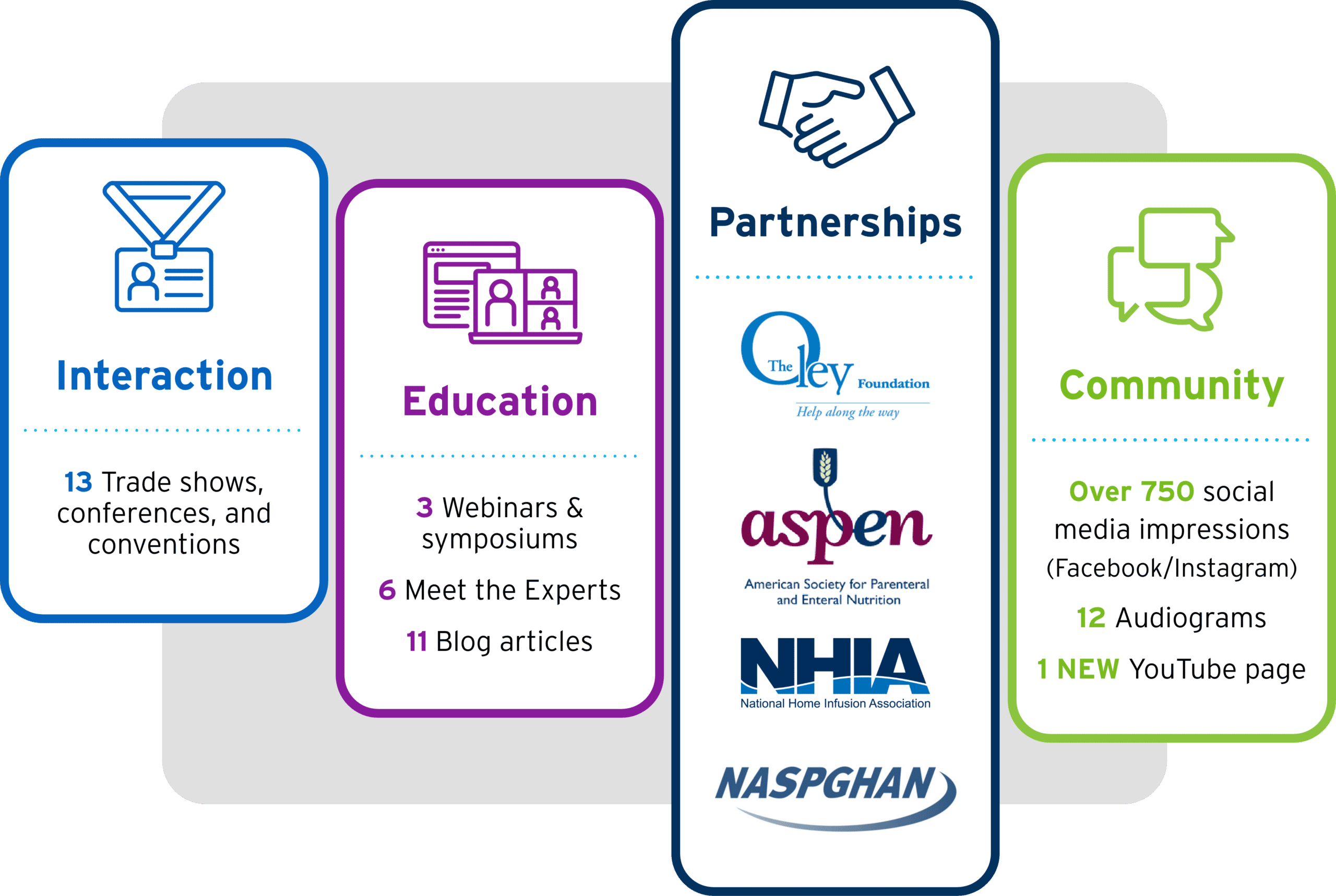 2022 was a big year for all of us here at Fresenius Kabi Nutrition and for the thousands of patients who require parenteral nutrition (PN). With more than 25,000 pediatric and adult patients requiring PN at home and more than 127,000 receiving PN in hospitals across the United States,1,2 providers have more options than ever for their patients, including soybean oil, fish oil, and multiple oil sources. We're proud to have not just fulfilled the need for alternative lipid emulsions in 2022, but for the past year of growth in peer-to-peer interaction, partnerships, education, and social community.
Guidance and PN

Further guidance on the use of PN in patients with pediatric acute liver failure (PALF) were released this year, giving physicians and caregivers more definitive counsel on the best management for their youngest patients. A 2022 NASPGHAN Position Paper on the Diagnosis and Management of PALF states that "lipids should be utilized [in PN] unless a disorder of fatty acid oxidation or mitochondrial disease is suspected."3

SMOFlipid: Oh baby, we've got news

SMOFlipid® (Lipid Injectable Emulsion, USP 20%), our one-of-a-kind, 4-oil ILE that has been used for years in adults, was approved for children 17 and under this year!4 Not only that but the FDA removed the boxed warning and limitations of use from the prescribing information. "The FDA doesn't often remove warnings, but when it does, it requires clinical evidence proving that the drug's risks are less severe than previous studies show."5
"As the only provider of fish oil-containing ILEs, the pediatric indication for SMOFlipid represents an important expansion of our parenteral nutrition portfolio and allows clinicians to meet the unique nutritional needs of even our most vulnerable patients at every age."
Gordon Sacks, PharmD, Senior Director Medical Affairs, Fresenius Kabi USA, LLC
Read more about the role omega-3s play in ILEs.
SMOFlipid is back in stock

Due to ongoing COVID-related supply chain issues and increased demand, the last few years have witnessed a shortage of PN products this year, including SMOFlipid. The good news is that it's back in stock and available for order through your wholesaler. Or you can click here to order SMOFlipid.

Addressing the challenges of reimbursement with KabiCare

Fresenius Kabi Nutrition is also dedicated to helping patients get access to innovative PN products. That's why the KabiCare Patient Support Program for Nutrition was created—to guide healthcare providers through the challenges of PN reimbursement and simplify the treatment journey for their patients on PN. Providers can contact a live representative at 1-833-KABICARE or visit kabicare.us to help them navigate the landscape of PN reimbursement with insurance benefit investigation, billing and coding support, prior authorization, and claims appeals.

It was great to SEE you in 2022

We're so thankful that we could gather in-person again at ASPEN, NASPGHAN, Hot Topics, and many other conferences, educational sessions, and speaker programs. We look forward to seeing you in the future! If you want to learn more about our clinical nutrition offerings or would like to schedule something for your team, reach out to us or your PN Sales Specialist.

What's next?
In 2023, we're welcoming one of our original PN products back to the Fresenius Kabi family. In the meantime, we'll continue driving advancements that will help nourish patients at every age and stage of life. Stay tuned!
INDICATIONS AND USAGE
SMOFlipid is indicated in adult and pediatric patients, including term and preterm neonates, as a source of calories and essential fatty acids for parenteral nutrition (PN) when oral or enteral nutrition is not possible, insufficient, or contraindicated.
IMPORTANT SAFETY INFORMATION
For intravenous infusion only into a central or peripheral vein. Use a non-vented non-DEHP 1.2 micron in-line filter set during administration. Recommended dosage depends on age, energy expenditure, clinical status, body weight, tolerance, ability to metabolize and eliminate lipids, and consideration of additional energy given to the patient. The recommended dose for adults and pediatrics is shown in Table 1. For information on age-appropriate infusion rate, see the full prescribing information. SMOFlipid Pharmacy Bulk Package is only indicated for use in pharmacy admixture programs for the preparation of three-in-one or total nutrition admixtures. Protect the admixed PN solution from light.
Table 1: Recommended Adult and Pediatric Dosage
Age
Nutritional Requirements
Initial Recommended Dosage
Maximum Dosage
Birth to 2 years of age (including preterm and term neonates)
0.5 to 1 g/kg/day
3 g/kg/day
Pediatric patients 2 to <12 years of age
1 to 2 g/kg/day
3 g/kg/day
Pediatric patients 12 to 17 years of age
1 g/kg/day
2.5 g/kg/day
Adults
1 to 2 g/kg/day
2.5 g/kg/day
SMOFlipid is contraindicated in patients with known hypersensitivity to fish, egg, soybean, peanut, or any of the active or inactive ingredients, and severe disorders of lipid metabolism characterized by hypertriglyceridemia (serum triglycerides >1,000 mg/dL).
Clinical Decompensation with Rapid Infusion of Intravenous Lipid Emulsion in Neonates and Infants: Acute respiratory distress, metabolic acidosis, and death after rapid infusion of intravenous lipid emulsions have been reported.
Parenteral Nutrition-Associated Liver Disease: Increased risk in patients who received parenteral nutrition for greater than 2 weeks, especially preterm neonates. Monitor liver tests; if abnormalities occur consider discontinuation or dosage reduction.
Hypersensitivity Reactions: Monitor for signs or symptoms. Discontinue infusion if reactions occur.
Risk of Infections, Fat Overload Syndrome, Refeeding Syndrome, Hypertriglyceridemia, and Essential Fatty Acid Deficiency: Monitor for signs and symptoms; monitor laboratory parameters.
Aluminum Toxicity: Increased risk in patients with renal impairment, including preterm neonates.
Most common adverse drug reactions (≥5%) from clinical trials in adults were nausea, vomiting, and hyperglycemia. Most common adverse drug reactions (≥5%) from clinical trials in pediatric patients were anemia, vomiting, increased gamma-glutamyltransferase, and nosocomial infection.
To report SUSPECTED ADVERSE REACTIONS, contact Fresenius Kabi USA, LLC at 1-800-551-7176, option 5, or FDA at 1-800-FDA-1088 or www.fda.gov/medwatch.
This Important Safety Information does not include all the information needed to use SMOFlipid safely and effectively. Please see full prescribing information, for intravenous use at www.FreseniusKabiNutrition.com/SMOFlipidPI.